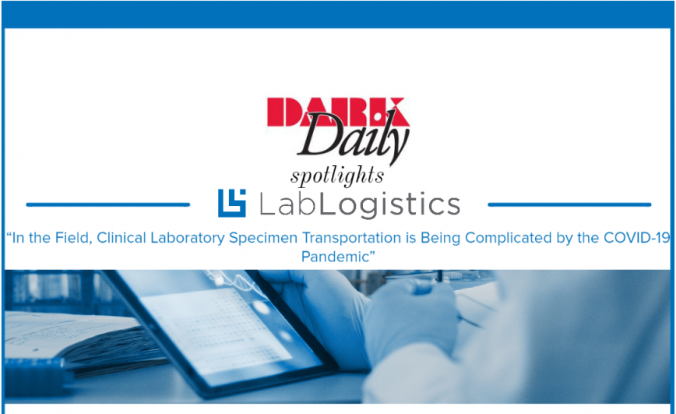 The impact of Coronavirus can be recognized in all areas of hospital and laboratory industries from patient care to the supply chain. COVID-19 has required hospital, laboratory, and supply chain executives to think quickly, plan strategically, and adapt smartly.
As a medical logistics company, Lab Logistics has been forced to react promptly to the changing environment in which we conduct business. New obstacles, new regulations, and new standards have surfaced to help protect and fight against COVID-19.
In an article published in Dark Daily, Lab Logistics is recognized for our ability to adapt, adjust, and advanced the supply chain amidst a pandemic. Dark Daily highlights how Lab Logistics has formed strategic partnerships, adjusted to the heightened security and change of procedures, modified routes and utilized new technology in order to properly serve our clients during this unprecedented time.
The article discussed how Lab Logistics and our sister company Path-Tec took initiative from the start of the pandemic and collaborated with manufacturers of medical laboratory supplies so we could not only provide our clients with a dedicated courier service but also provide them with necessary supplies for testing and treatment. Lab Logistics felt it was necessary to create these partnerships in order to provide our clients with the best possible supply chain all around. (click here to get more information on this partnership)
Not only did we take proactive steps with strategic partnerships, the article notes that we altered our standard business practices and routes to encompass more on-demand flexible work. When interviewed by Dark Daily, Susan Uihlein our Senior VP of Business Development said, "Our operations team makes sure that we work with each client to flexibly react to changes in that day's pickups and deliveries, as appropriate. There has been much optimization and on-the-fly changes." Due to the virus, it is imperative that hospitals and laboratories review their current logistics solutions and adjust accordingly in order to save time, money, and resources.
In a Special Edition White Paper Dark Daily created in partnership with Lab Logistics, titled, "Specimen Management and Logistics Issues to Evaluate for Continuous Quality Improvement – 3 High Risk Medical Courier Support Services," it is noted that utilizing a logistics system that includes a dedicated courier with experience in handling and tracking of specimens, chain of custody and medical security can help generate financial improvements. During COVID-19 it is imperative that hospitals and laboratories are taking all the necessary action to reduce overhead spend while increasing efficiency and optimizing resources.
As medical logistics experts, Lab Logistics was able to successfully adapt and modify our practice to better service our clients. As our President and CEO, Brian McArdle, told Dark Daily, "They (our couriers) are out in the field, they are picking up, delivering, and rolling with the punches as far as what a healthcare system or clinical laboratory needs from them – from photo IDs to wearing masks and gloves. The process keeps evolving. And we have evolved with it." Our ability to adapt and change so rapidly is linked to the fact that our couriers are extensively trained, nationally certified, and equipped with the best technology in the industry. Utilizing professional couriers and transparent technology allows for our team to continuously update, verify, and improve your supply chain.
As times continue to change, hospital and laboratory systems continue to alter their standards and needs. Lab Logistics will continue to alter the way in which we provide logistics solutions. We will adapt with you, for you, and in tandem. As medical supply chain experts, our job is to make your ability to deliver care easier, seamless, and efficient. Lab Logistics is with you through the hard times.